Well, technically it's not a ring of fire, but dungeon structure that makes the center look kind of like a ring of fire because it's above some lava doesn't really have the same ring to it.
DOWNLOAD HERE
PATREON TIER 1 CONTENT
PATREON TIER 2 CONTENT
FREE VERSION
Anyway, I figured I'd make some sort of crossroads above some lava, which can be used for just casual lava dungeon navigation. Or, more interestingly, used for some sort of boss battle (maybe even a duel) by making use of the center pillar.
There's four more pillars, one near each corner of the map, where you can place monsters with ranged attacks that make the party's life more difficult. Alternatively you can use some other contraptions like magic ballistas that shoot fireballs to make the encounter more exciting and dangerous. And wouldn't you know it, I went ahead and drew that encounter idea!
You can find that variant (which also includes a magic platform in the middle) attached as well.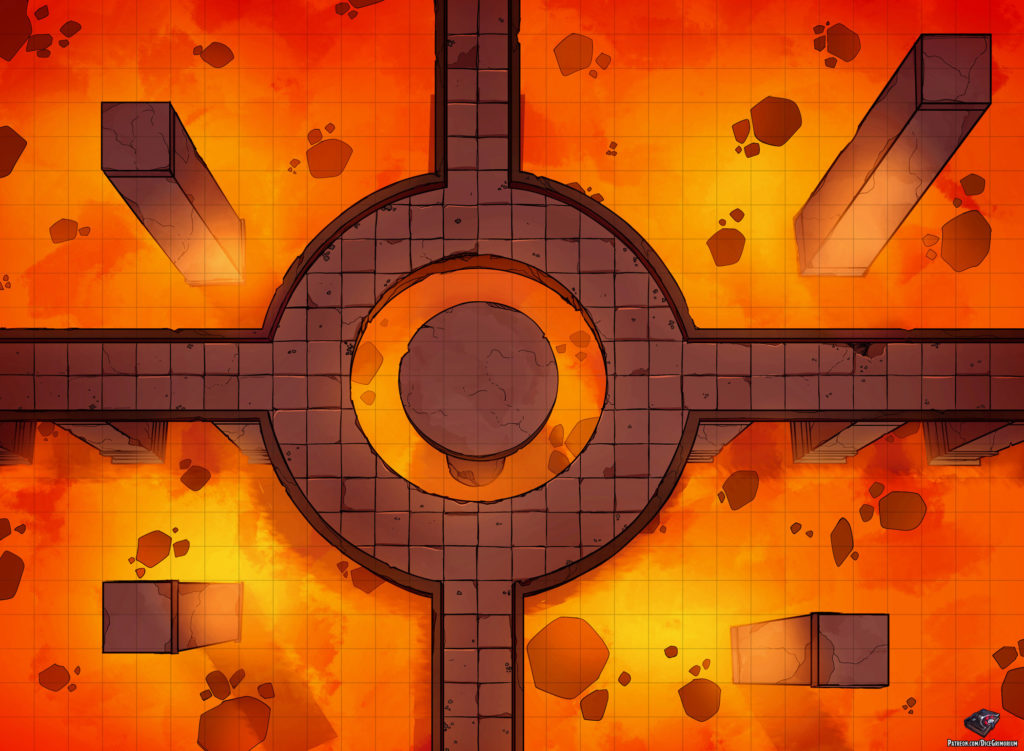 In addition to this free version if you pledge to my Patreon you can get more awesome content such as:
Patreon Tier 1 Content
Access to all previously released maps
High resolution maps
Roll20 sized maps
Grid versions
Gridless versions
Several prop variants
Patreon Tier 2 Content
Everything in Tier 1
Alternate color palettes
Line variant
Map tokens
PSD
Good gaming!